Whāriki He Aka Hui | Workforce pathways to learning made easy
November 25 @ 1:00 pm

-

2:00 pm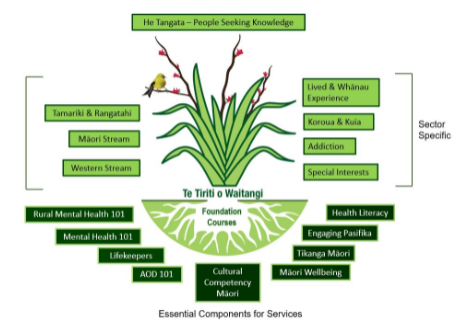 There are a range courses and programmes available across Te Manawa Taki and nationally for the MHA workforce. These options can be difficult to navigate, especially for people who do not know which pathway to take. So, Te Manawa Taki has developed a visual framework to support people navigating the myriad of options, on an interactive website.
Their ambition is that this will minimise some of the barriers and increase workforce capability and capacity. The framework includes a range of courses from foundation programmes like Mental Health & Addiction 101 for micro-credentialling, through to the NZQA formal qualification levels. It presents training helpful or essential to working in a range of roles including community support work, lived experience and peer whānau roles, addiction clinical, and leadership.
'We have heard the voices of those who experience mental health and/or addiction distress and their whānau who journey with them. They have expressed an increasing desire for services to embrace a new way of working with them and a workforce that has a greater understanding of what they go through. They want to see more Māori and Pacific staff, as well as people in peer roles who have lived and whānau experience like them. The workforce needs to adapt to learn more about how to work with whānau and to create services that will include a broader range of whānau. These initiatives need to become business as usual and sustainable.' Te Manawa Taki
The Te Manawa Taki rohe (Bay of Plenty, Lakes, Hauora Tairāwhiti, Taranaki and Waikato District Health Boards) has experienced mental health and addiction workforce shortfalls and wants to attract a wider audience to enter the sector workforce as a first choice or as a change in career direction, and those wanting to upskill.
Hear from HealthShare's Eseta Nonu-Reid, Regional Director, Mental Health & Addiction Wellbeing and Belinda Walker; Workforce & Information Project Lead about how and why they created this pathway and the results they are targeting.
Click here to register for this event. 

See all events