Whāriki He Aka Hui: Taranaki Retreat – community run suicide prevention
24 February 2022 @ 1:00 pm

-

2:00 pm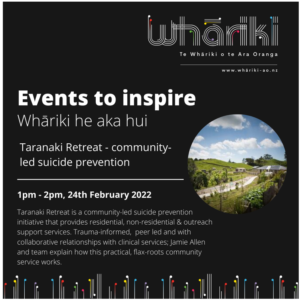 Te Whāriki o te Ara Oranga are excited to bring this remarkable community up, peer led, trauma informed and responsive service as their first He Aka Hui of 2022. Faithfully hearing the stories of whānau in the community and then taking collective action through real collaboration, there is much for us to learn from what has been achieved at the Taranaki Retreat.
Taranaki Retreat – community run suicide prevention
Taranaki Retreat is a community-led suicide prevention initiative that provides residential, non-residential and outreach support and services. Individuals or families can visit to deal with tragedy or life challenges. Some Guests have been affected by suicide, are dealing with loss, depression or need time out from their situation.
Trauma-informed and peer led with strong collaborative relationships with clinical services, the retreat was inspired by listening to stories of the people of Taranaki. Co-designed and based on a te whare tapa whā model, more than fifty services are available within their kete including remote support. Holistic responses are tailored to tāngata whai ora and whānau.
Barriers to access are reduced as Guests don't need to be referred. There are no charges and meals are provided along with beds in private rooms, fresh towels, hot showers, tea, coffee and baking. The Taranaki community contributes time, resources, and funding to koha and be part of a community solution to mental wellbeing.
Guests come from across the motu, not just Taranaki. Outreach support is limited in other regions, but the service has assessment visitors and support workers operating nationally, and many people connect with a support worker by text, email or phone and/or use an online buddied journaling service.
In this first He Aka Hui of 2022, Jamie Allen, Executive Officer and his team explains to the Whāriki membership how collective community purpose has responded to need, nurtured trusting relationships and provided practical, accessible support.
See all events